This is to inform the general public and all 2018/2019 Degree and Direct Entry admission aspirants of the Nnamdi Azikiwe University Akwa, Anambra state that the management of the University have finally released her 2018/2019 admission cut-off marks for all departments in the school for the 2018/2019 admission exercise.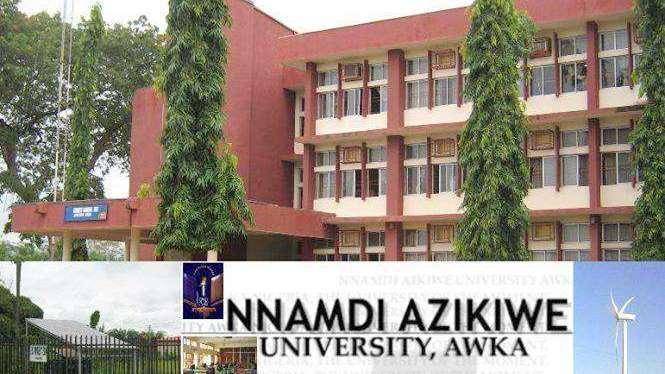 The management of the school have made it compulsory that all candidates shall be considered for admission into the institution based on their performance in the school Post-Utme which is the same thing as their score.
According to the report reaching us at Real Mina from a reliable source, the school management has sound it as a warning to all her 2018/2019 admission aspirant against paying anybody in the school for admission bcause according to the report, the  UNIZIK 2018/2019 Admission is going to be strictly on merit.
See: UNIZIK 2018SCREENING DATE
The school management also warned candidates against malpractice during the conduct of the school Post-Utme examination exercise. The school management have said it that anyone caught in malpractice will be arrested and will not be considered for admission.
Now the Admission Cut Off Marks.
Faculties / Programmes with Cut-Off Mark of 200
Arts – English Language and Literature
Basic Medical Sciences – Anatomy and Physiology
Biosciences – Applied Microbiology and Brewing, Applied Biochemistry, Botany, Parasitology and Entomology and Zoology
Education – Educational Foundations, Educational Management & Policy
Engineering – Chemical Engineering, Civil Engineering, Electrical Engineering, Electronic & Computer Engineering, Mechanical Engineering, Industrial & Production Engineering, Metallurgical & Materials Engineering
Health Sciences & Technology – Medical Lab Sciences, Nursing Science, Radiography, Medical Rehab (Physiotherapy)
Law
Management Sciences – Accountancy, Banking & Finance, Business Administration, Cooperative Economics & Management, Marketing, Public Administration i. Medicine – Medicine
Pharmaceutical Sciences – Pharmacy
Physical Sciences – Computer Science, Pure & Industrial Chemistry, Physics & Industrial Physics, Geological Sciences
Social Sciences – Economics, Psychology, Political Science, Mass Communication, Sociology/Anthropology.
Programmes with 180 cut-off marks
Agriculture -Agric Econs & Extension, Animal Sciences & Fisheries, Forestry & Wildlife, Food Science & Technology, Soil Science, Crop Science
Arts – Igbo, African & Asian Studies, History & International Studies, Linguistics, Music, Philosophy, Modern European Languages, Religion & Human Relations, Theater and Film Studies and Chinese Studies
Education – Adult Education, Early Childhood & primary Education, Guidance and Counseling, human Kinetics & Health Education, Library & Information Science, Science Education and Vocational Education.
Engineering – Agric & Bio resources Engineering, Polymer & Textiles Engineering
Environmental Sciences – Architecture, Building, Quantity Surveying & Geoinformatics, Fine and applied Arts, Environmental management, Estate management
Physical Sciences – Mathematics and Statistics only
Health Sciences and Technology – Environmental Health only
Management Sciences – Entrepreneurial Studies only
See: UNIZIK 2018SCREENING DATE
Programmes with 160 cut-off marks
-Technical Education and All Affiliate Institutions
Registration Procedure
Registration starts on Monday, 6th August, 2018 and will end on Wednesday 22nd August, 2018.
-Visit portal.unizik.edu.ng
Click on "Create Account"
Enter your UTME Registration Number and valid email address and click "Send". A verification code will be sent to your email instantly
Copy the verification code and click on "Continue"
On the form, enter your phone number, password, verification code (copied from email), select the access level and click "Submit"
Your login details will be sent to your email address instantly
Continue with the application by logging in with the login credentials sent to your email
After successful login, click on "Step One", click on "Generate Application Form RRR"
Print the RRR (Remita) page, proceed to any bank of your choice nationwide to make a payment of N2000 only
Login to the portal, click "Step Two", click on "Confirm payment", enter the RRR number and click on "Verify payment". If payment conformation is successful, or if you get a notification "Payment already verified", then proceed to "Step Three"
Click on "Step Three", click on "Fill Application Form", fill out the application form. You can save each stage of the application and continue at a later time. Also you can edit your information as often as possible within the application period
Check the "I Agree" box and click on "Submit" button
-Print out the Application form and come along with it for your screening and Post-UTME/DE examination
Please note that candidates with WASCE and NABTEB should fill only their name, Exam No, Year and School/Centre where examination was taken.
Candidates can always go back to update their O'level result information for correctness.
SEE: List Of Courses Offered In UNIZIK.
For More Educational Updates, Like, Share And Subscribe To RM Blog.