The provisional admission of a UNILAG student has reportedly been withdrawn after he tested positive for Drugs.
In October 2018, it was reported that a compulsory drug test would be part of the 2018/2019 Registration exercise for newly admitted students into the institution.
However, the test exercise has been concluded, and students are now notified of their results. A student identified as James happened to be a victim, and his admission has been reportedly withdrawn after being tested positive for Marijuana use.
A student shared the screenshot of the letter on his whats app status, as seen in the picture below: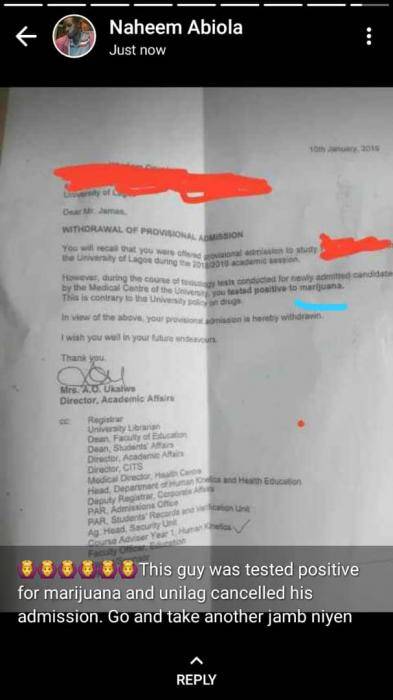 Conclusions
 Marijuana use has been linked to various mental health problems, such as depression and social anxiety.
People who use marijuana are more likely to develop temporary psychosis (not knowing what is real, hallucinations, and paranoia) and long-lasting mental disorders.
Students want to avoid taking marijuana so as to stay healthy and vibrant, especially in their academic work in school.