The management of the Osun State College Of Technology (OSCOTECH) invites Candidates from suitably qualified institutions for admission into the underlisted Full-Time academic programmes which would be available in the institution during the 2018/2019 academic session.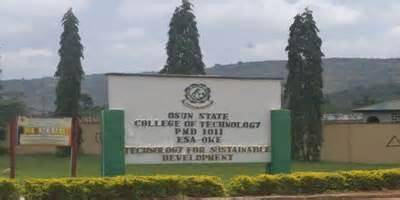 S/NO
FACULTIES
DEPARTMENT PROGRAMMES
OPTIONS
1.
MANAGEMENT SCIENCES
i.   Accountancy
ii.  Banking and Finance
iii. Business Administration and Management
NIL
NIL
NIL
2.
ENVIRONMENTAL STUDIES

Estate Management
Building Technology
Quantity Surveying
Architectural Technology
Urban and Regional Planning
Surveying and Geo-informatics

NIL
NIL
NIL
NIL
NIL
NIL
3.
ENGINEERING

Civil Engineering
Mechanical Engineering
Electrical/Electronics Engineering

NIL
NIL
i. Electronics & Telecommunication
ii.Power and Machine
4.
APPLIED SCIENCES

Computer Science
Statistics
Science Laboratory Technology

NIL
NIL

Microbiology
Physics with Electronics
Chemistry
 ADVANCED CERTIFICATE PROGRAMMES
i.              Banking and Finance
ii.               Accountancy
iii.            Business Administration and Management
iv             Mechanical Engineering
Applicants must satisfy all the requirements for admission into the relevant ND programme of their choice.
  POSTGRADUATE DIPLOMA PROGRAMMES
Estate Management
Urban and Regional Planning
Applicants must satisfy all requirements for admission into the relevant HND programme of their choice.
   WAIVER AND SPECIAL CONSIDERATION
A good National Diploma Certificate in Computer Engineering may be considered for admission into Electrical/Electronics Engineering.
  ENTRY REQUIREMENTS
                Candidates should possess:
National Diploma (ND) with a minimum of Lower Credit in the course/programme of choice and five (5) relevant credits including English Language and Mathematics at the GCE 'O' Level or SSCE of WAEC or SSCE of NECO or NTC of  NABTEB. Candidates are advised to visit the College's website (www.oscotechesaoke.edu.ng.) to avail themselves of the requisite entry requirements for the ND of each programme that make them prima-facie qualified for the Higher National Diploma (HND) programmes.
     A minimum of at least one year post-ND industrial work experience in addition to 2.4 above.
Graduates of other institutions should ensure that their academic transcripts are forwarded by their various institutions to the Registrar.
  METHOD OF APPLICATION
Applicants are to purchase admission scratch cards from any of the underlisted banks at a cost of Seven Thousand, Five Hundred Naira Only (N7,500.00).
1.             OSCOTECH Microfinance Bank Ltd., Main Campus, Esa-Oke
2.             OSCOTECH Microfinance Bank Ltd., Orinkinran Street, Ilesa
3.             OSCOTECH Microfinance Bank Ltd., Stadium Road, Osogbo.
4.             Olu-Basiri Microfinance Bank, Sabo Junction, Osogbo, Osun State
Applicants are required to access the admission forms and complete same using the scratch cards Personal Identification Number (PIN) on the College Website www.oscotechesaoke.edu.ng.
Interested applicants should access and complete admission forms immediately.
Date for Computer-based screening exercise for all applicants will be announced later.
 CHECKING OF PROVISIONAL ADMISSIONS LIST
Applicants are free to check the provisional lists of successful applicants online with the purchase of scratch cards at a cost of One Thousand Naira Only (N1,000.00) from any of the above listed banks after the computer-based screening exercise.
Signed.
Mr. J.O. Ogunsuyi
     Registrar.
Recommended: List Of Courses Offered In OSCOTECH
For More Educational Updates, Like, Share And Subscribe To RM Blog.